---
Rangpur District (rangpur division) area 2370.45 sq km, located in between 25°18' and 25°57' north latitudes and in between 88°56' and 89°32' east longitudes. It is bounded by nilphamari and lalmonirhat districts on the north, gaibandha district on the south, kurigram district on the east and dinajpurdistrict on the west.
Population Total 2542441; male 1307396, female 1235045; Muslim 2296790, Hindu 229963, Buddhist 5781, Christian 2060 and others 7847. Indigenous communities such as santal, munda and oraon belong to this upazila.
Water bodies Main rivers: tista, Jamuneshwari, ghaghat, karatoya, Chikali, Akhira.
Administration Rangpur' district was formed on 1 February 1984.
District
Area (sq km)
Upazila
Municipality
Union
Mouza
Village
Population
Density (per sq km)
Literacy rate (%)
Urban
Rural

2370.45

8

3

83

1215

1435

457234

2085207

1101

41.91
Others Information of District

Name of Upazila

Area
(sq km)

Municipality

Union

Mouza

Village

Population

Density
(per sq km)

Literacy rate (%)

Kaunia

147.60

1

6

80

79

214317

1452

36.97

Gangachara

272.28

-

10

92

149

259856

954

32.95

Taraganj

128.64

-

5

40

41

119927

932

37.06

Pirganj

409.37

-

15

308

333

345593

844

39.07

Pirgachha

265.32

-

9

170

170

295050

1112

19.15

Badarganj

301.29

1

10

64

120

257846

846

38.20

Mitha Pukur

515.62

-

17

310

314

449612

872

41.70

Rangpur Sadar

330.33

1

11

151

229

600240

1817

52.95
Source Bangladesh Population Census 2001, Bangladesh Bureau of Statistics.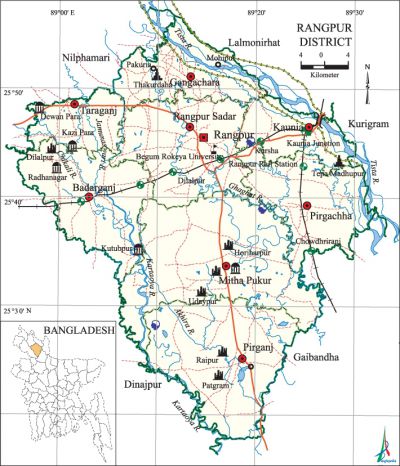 History of the War of Liberation In March 1971, the Pak army killed Shanku Samaddar, Abul Kalam Azad, Mokbul Hossain and Omar Ali of Rangpur sadar. On 28 March 1971 the people of Mitha Pukur upazila surrounded the Rangpur cantonment with indigenous weapons such as Lathi, Ballam, bow and arrow, etc. At this time the 29 Cavalry Regiment fired from machine gun and killed a large number of people. The Pak army conducted mass killing and heavy plundering in this upazila most noted of which is the mass killing of Joyram Anwar Mouza ofPairaband union. On 1 April 1971, the freedom fighters of Kaunia upazila shot the Officer in Charge of the Police Station dead. On 13 April the Pak army brutally killed 11 Bangali EPR personnel at Nandiganj of Pirganj upazila. On 17 April the Pak army and their local agents conducted mass killing in Badarganj upazila; they also sacked the villages Khalisa Hajipur, Bujruk Hajipur, Ghatabeel and Ramnathpur. The Pak army killed Professor Chitta Ranjan Roy (Mathematics), Professor Boam Krishna Adhikari (Philosophy), Professor Sunil Chandra Chakravorty of the Department of Bangla, (all residing in the Rangpur Carmichael College campus), on the night of 30 April and buried them in a mass grave inside a bamboo hedge near the Damdam Bridge. Besides, the Pak army also killed some teachers and students including Professor Kalachand Roy along with his wife, Professor Md. Abdur Rahman, Professor Shah Solaiman Ali in the College compound. The Pak army had their torture cell at Rangpur Town Hall. On 2 June two Pak soldiers entered into a village near the Tista Bridge of Kaunia upazila and attempted violation of women; the agitated villagers killed both of them. In consequence, on 30 June 1971, the Pak army sacked the villages located on the western side of the Tista Bridge and killed nearly 200 persons. In August the Pak soldiers captured a number of people at village Darar Par of Sayar union under Taraganj upazila and later on killed all of them. In the month of October an encounter was held between the freedom fighters (Mujib Bahini) and the Pak army at village Shankardaha of Pirgachha upazila in which 2 Pak soldiers and 5 razakars were killed. The Pak army brutally killed 17 pious Muslims inside the Taltala Mosque. On 2 December another encounter was held between the freedom fighters and the Pak army at Monurchhara of Parul union under Pirgachha upazila in which one freedom fighter was killed and so were two Pak soldiers. On 3 December the Pak army conducted mass killing on the Barati Bridge over the river Jamuneshwari. On 13 December, 212 razakars of Gangachara upazila surrendered to the freedom fighters. On 17 December the Pak army surrendered to the joint forces and thereby Rangpur district was liberated.
Marks of War of Liberation Mass grave 4 (Damdama Bridge and Damdama Bazar (Mithapukur), Angrar Bridge, Madarganj Bazar (Pirganj); Mass killing site 10 (Dahiganj crematory, eastern side of the river Ghaghat, Balar Dighi (adjacent to the cantonment), under the bridge on the river Ghaghat, Lahirir Hat (adjacent to the Badarganj Road), place near the Damdama Bridge (Mitha Pukur), Sahebganj, Nandiganj, Jharuar Beel (Badarganj); Memorial sculpture 1 Arjan).
Literacy rate and educational institutions Average literacy 41.91%; male 46.50%, female 37.06%. Educational institutions: university 1, open university 1, medical college 1, teacher's training college 2, law college 1, homeopath college 1, college 65, polytechnical institute 1, vocational institutions 1, cadet college 1, secondary school 320, primary school 1166, community school 20, kindergarten 25, satellite school 44, music school 1, NGO operated school 193, madrasa 370. Noted educational institutions: Begum Rokeya University (2008), Rangpur Carmichael College (1916), Begum Rokeya Government Mohila College (1964), Rangpur Medical College (1966), Teachers Training College (1858), Rangpur Cadet College (1977), Rangpur Zila School (1832), Rangpur Girls' High School (1876), Kailash Ranjan High School (1913).
Main sources of income Agriculture 62.99%, non-agricultural labourer 4.66%, industry 1.11%, commerce 13.28%, transport and communication 3.90%, service 6.32%, construction 1.18%, religious service 0.20%, rent and remittance 0.20% and others 6.16%.
Newspapers and periodicals Daily: Dabanal (1980), Juger Alo (1992), Rangpur (1997), Paribesh (1994), Akhira, Arjan; weekly: Atal (1991), Rangpur (1996), Rangpur Barta (1996), Bajrakantha (Pirganj); defunct: Rangpur Bartabaha (1847), Rangapur Darpan (1907), Rangpur Sahitta Porishad (1905), Rangpur Dik Prakash (1861), Uttar Bangla (1960), Pravati (1955).
Folk culture The prevalent folk culture of the district include Palagan, Yogir Gan, Chhokra Nachani Gan, songs imitating marriage of trees, songs imitating marriage of frogs, Goalir Gan (songs of milk maid), Hudumar Geet, Punthi path (recitation from the Puthi), songs of Lalon, Bhawaiya, Bhatiali, songs of Hasan Raja, songs of Abbasuddin, Murshidi, Marfati, Dehatattva, Harishava in the temple, rhymes, folk tale, proverbs, etc.
Tourist Spots Tajhat Zamindar Bari (Rangpur Sadar), Pirgachha Zamindar Bari, Phanibhusan Majumdar Zamindar Bari, Paira Chhattar, Three Domed Keramatia Mosque at Rangpur, Tribigraha Mandir, Vinna Jagat Amusement Park, Dargah of Shah Ismail Gazi (R), Begum Rokeya Memorial Centre at Pairabandh (Mitha Pukur). '[Abdus Sattar]
See also The upazilas under this district.
References Bangladesh Population Census 2001, Bangladesh Bureau of Statistics; Cultural survey report of Rangpur District 2007; Cultural survey report of upazilas of Rangpur District 2007.