Land Ports
---
Land Ports also called border stations for import and export. A land port houses the customs and border protection, and other inspection agencies responsible for the enforcement of country's laws pertaining to such activities. The land port of entry consists of the land, the buildings, and the on-site roadways and parking lots that the port of entry occupies. The facility serves as a point of contact for travelers entering or leaving the country for the purposes of enforcement; Prevention of illegal aliens from entering the country; Collection of revenues; Prevention of injurious plants, animal pests, human and animal diseases from entering the country; Examination of export and import documents; Registration of valuable articles being temporarily taken out of the country; and Commercial transactions.
TableLocation of Different land ports
| | | |
| --- | --- | --- |
| LC Station | District | District on opposite side |
| Benapole | Jessore | 24 Pargana |
| Teknaf | Cox's Bazar | Mundu, Myanmar |
| Banglabandha | Panchagar | Jalpaiguri |
| Sonamasjid | Chapai Nawabgaj | Maldaha |
| Hilli | Diajpur | West Dinajpur |
| Bhomra | Satkhira | 24 Pargana |
| Darshana | Chuadanga | Nadia |
| Birol | Dinajpur | Gaur |
| Burimari | Lalmonirhat | Mekhaljigonj |
| Tamabil | Sylhet | Shilong |
| Haluaghat | Mymensing | Tura |
| Akhaura | Brahmanbaria | Agartala |
| Bibirhazar | Comilla | Agartala |
| Nakugaon | Serpur | Dalu (Meghalaya) |
| Biloniya | Feni | Biloniya |
| Gobarakura and Karitali | Mymensingh | Gachuyapara (Meghalaya) |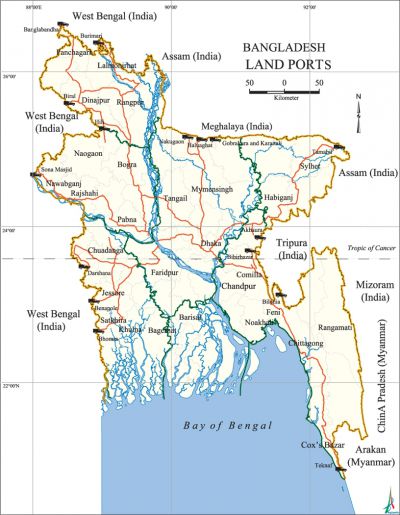 Land ports of Bangladesh are located at land and inland water (river) boundaries with India, Nepal, Bhutan and Myanmar, which have varying needs and requirements based on their location. For example, one land port of entry could be on a major border trade route and, therefore, process a high volume of commercial traffic and yet have virtually insignificant pedestrian traffic. On the other hand, another land port of entry can process as many as 15,000 pedestrians each day. Beyond these obvious programmatic differences, the perceived transaction at a land port of entry will have a significant impact on individual land port of entry administration.
Bangladesh has 2400 km land border, 92% of which is with India and 8% is with Myanmar, Bangladesh border trade is looked after by 181 land customs stations, national board of revenue (NBR) controls items to be traded and fixes tariff for these LC stations. Bangladesh Sthala Bandar Kotripaksha (BSBK) also known asbangladesh land port authority created under an Act (Act 20 of 2001) owns and operates selected 13 land ports of entry, responsible for border station facility development and management. Objectives and functions of the BSBK are to facilitating trade with neighboring countries; raising national income through increased import and export trade; reducing the trend of smuggling; enabling private enterprises to participate in the operation port services for higher level of efficiency; strengthening PPP (Public Private sector Partnership) for future development and poverty alleviation and promoting economic activities in remote areas. Presently, there are 16 land ports in Bangladesh.
Benapole Land port started operation under BSBK management from February 2002. Previously it was under management of Mongla Port Authority. The lion share of trade between Bangladesh and India are handled through this port. The present facilities include 35 godowns, 5 open stack yard, 01 transshipment yard and 01 truck terminal yard developed on 56.71 acre land, Teknaf port started operation on 1st November, 2006. It stands on the West bank of the river Naff at Teknaff of Cox's bazar district. This port plays the important role in border trade between Bangladesh and Myanmar. Private operator on BOT basis is operating this port. The Sonamasjid land port in Shibganj upazila under Chapai Nawabganj district started operation on 27th December 2006 to handle border trade between Bangladesh and India in the northern region. The private port operator has developed some port facilities such as roads, transshipment yard etc. Fruits, bolder/stones, pulse, chemicals, material dust is generally imported through this port whereas exports are not significant. Hili land port facilities such as roads, transshipment yard etc. Fruits, bolder/stones, pulse, chemicals, material dust is generally imported through this port whereas exports are not significant. Hili land port in the Dinajpur district started operation on 26 November 2007. Bolder/stones, pulse fruits, food grain etc are imported while fruit juice, garments, molasses, jamdani saris etc are exported through this port. Through Bibirbazar land port in the Comilla district fruits, onion, singer etc are imported and cosmetics, cement and bricks are imported to seven sister states of India. Rice, wheat, sugar, fruits, stone are imported and fertiliser, jute, plastic pipes, battery are exported through Birol land port in the district of Dinajpur. There exists a bright prospect for developing and promoting border trade between Bangladesh, India and Nepal through Banglabandha land port, which is situated at Tetulia upazila in the district of Panchagarh. The main import items are pulses, rice and fruits whereas the main exports are medicine, medical equipment, apparels, electrical items, fertilizer, jute, jute goods, tea, battery etc. At present, trade is going with Nepal on back transshipment at the zero point, as there is no Transit Agreement between Nepal and India. The Burimari land port in the Lalmonirhat district border has great potentials to become a land port for promoting border trade among the neighbouring countries Bangladesh, India and Bhutan. Coal, bolder, stone, limestone, fruits, medical equipment, vegetables are the main import items. Ready-made garments, jute and jute goods, medicine, crockeries etc are generally exported through this port. Tamabil land port in the Sylhet districts is one of the oldest border stations connecting to Shilong of Meghaloya. It is now running as LC stations as BSBK is yet to start construction of land port facilities. Akhaura land port in Brahambaria district is mainly an export-oriented port. Bhomra land port under Satkhira district is under construction, at present is running as land customs station. This land has immense potentials as it is nearer to Kolkata for both trade and immigration. Wagon to wagon transshipment on railway tracks takes place at Darshana land port. Generally rice, wheat, clinker, fish, sugar, power milk etc are imported through this station. Haluaghat land port in the district of Mymeshingh is being developed to be an important land port station for trade with Assam region of India. [Muhammad Abdul Mazid]
See also bangladesh land ports authority.